Crimes against Asians focus of House hearing
By AI HEPING and MINLU ZHANG in New York | China Daily Global | Updated: 2021-03-19 11:13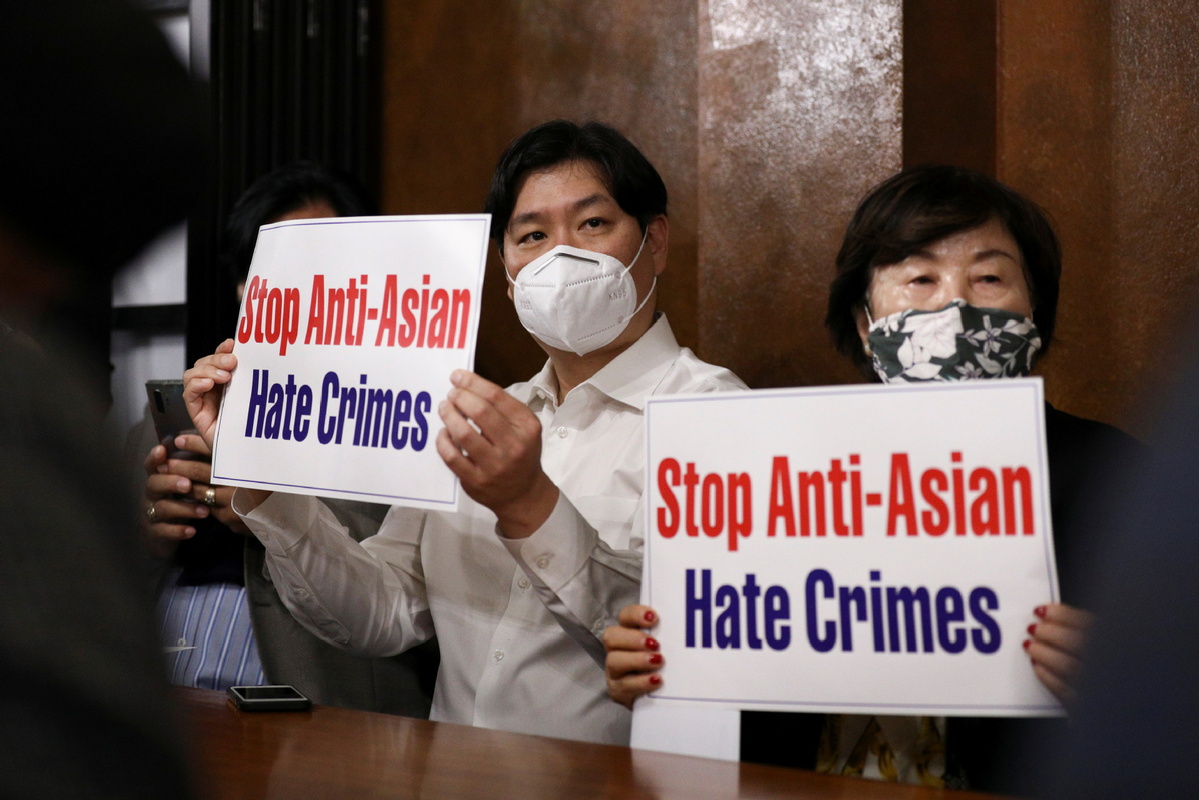 A House judiciary subcommittee on Thursday heard testimony from Asian American lawmakers, professors and advocates on the rise in anti-Asian discrimination and violence following the shooting rampage in Georgia by a white man that killed eight people — six of them Asian women — at three massage parlors.
The hearing was scheduled before the attack on Tuesday in Georgia to investigate a spike in hate crimes against Asian Americans, which rose by 149 percent in 2020 in 16 major cities compared with 2019, according to the Center for the Study of Hate and Extremism.
During the hearing, Democratic US Representative Judy Chu of California blamed former president Donald Trump's comments amid the COVID-19 outbreak for stoking anti-Asian sentiment.
"He used racial slurs like 'Wuhan virus', 'China plague' and 'kung flu' despite the fact that the CDC and the World Health Organization warned not to associate the virus with a specific ethnicity, country or geographic region due to the stigma it causes," said Chu, chair of the Congressional Asian Pacific American Caucus.
"Our community is bleeding, we are in pain, and for the last year we've been screaming out for help," New York Democratic Representative Grace Meng told the House of Representatives subcommittee.
Republican committee members and their witnesses sought to focus the hearing on discrimination in higher education-admissions practices or argued the spike in crimes against Asian Americans is part of a surge in violence in cities in the last year.
In Georgia, Deputy Chief Charles Hampton of the Atlanta Police Department said at a news conference Thursday that "nothing is off the table for our investigation" when he was asked whether the police had ruled out classifying the attack as a hate crime.
Police have said that the suspect, Robert Aaron Long, 21, suggested to investigators that a sex addiction led him to violence. Lawmakers and anti-racism advocates have speculated the killings were motivated at least in part by anti-Asian sentiments.
Police said Thursday that Long had been a customer at two of the massage parlors where police say he shot and killed four women of Asian descent on Tuesday evening.
Authorities have said he drove to those businesses after fatally shooting four people at a spa in the suburbs, including two women of Asian descent. The police there said they didn't know whether the suspect was a customer at that location.
Long has been charged with eight counts of murder and one count of aggravated assault and is being held at the Cherokee County Jail. His lawyer said Long had waived an arraignment that had been scheduled for Thursday.
A captain in the Cherokee County Sheriff's Department, who was among the law enforcement speakers who gave an update at a news conference on the investigation on Wednesday, came under criticism Thursday for reportedly posting images on Facebook of T-shirts with a racist slogan about China.
In Facebook posts from March and April 2020, Captain Jay Baker shared an image of T-shirts based on the Corona beer label that said "Covid 19: IMPORTED VIRUS FROM CHY-NA" Place your order while they last," the March 2020 Facebook post said, along with a smiley face emoji.
"Love my shirt," Baker wrote in another post in April 2020. "Get yours while they last." The account was deleted Wednesday night, the newspaper said.