Engineering society to boost exchanges
By Zhang Zhihao | China Daily | Updated: 2021-03-19 09:03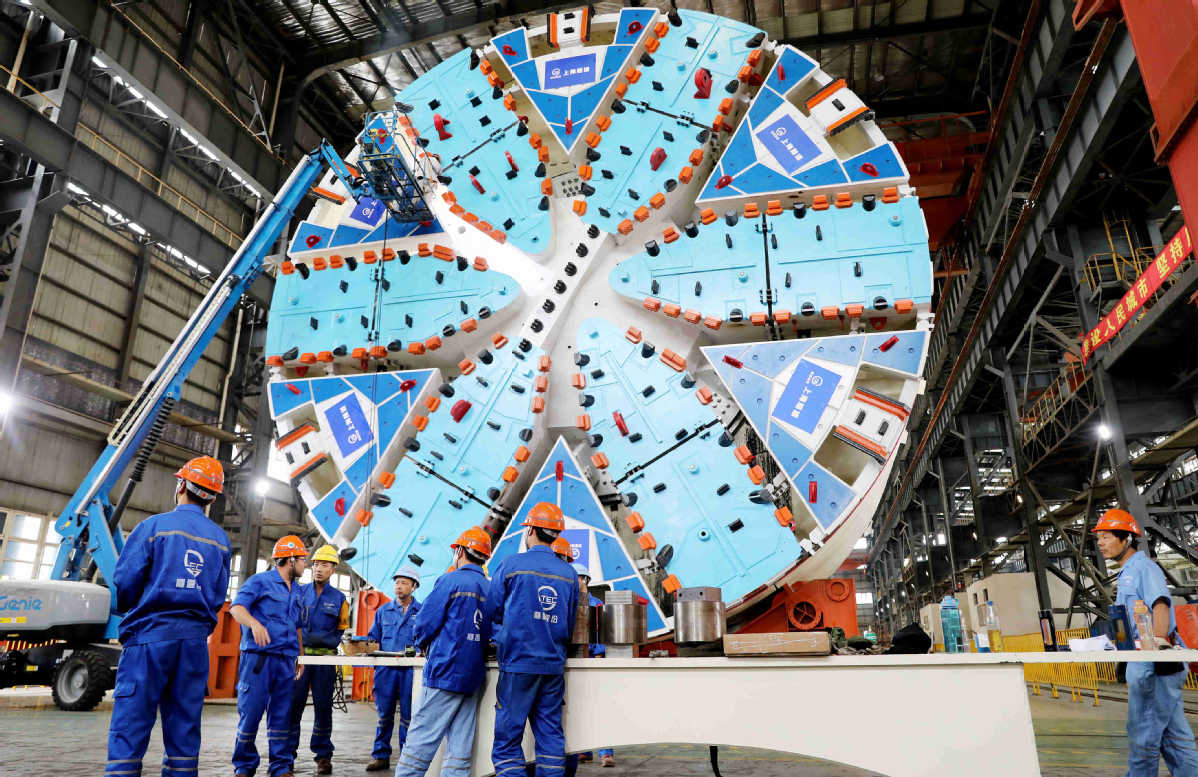 Chinese engineers will expand exchanges and cooperation with foreign peers to create innovative solutions for global challenges ranging from climate change to public health, officials said on Thursday.
The China Association for Science and Technology launched the Chinese Society of Engineers on Thursday to better organize engineering talent in China, promote engineering education, and facilitate international collaboration. The launch ceremony was part of China's celebration of the second World Engineering Day on March 4.
The new organization encompasses 32 national-level academic societies, eight regional engineering societies, 12 universities and 24 State-owned and private enterprises. China had over 42 million engineers in 2014, accounting for nearly half of its scientific and technological workforce.
China will expand its high-quality engineering talent pool, according to the Outline of the 14th Five-Year Plan (2021-25) for Economic and Social Development and the Long-Range Objectives Through the Year 2035, which was released last week.
Wan Gang, president of CAST, said the new society will contribute "Chinese wisdom" to achieving the United Nations Sustainable Development Goals and building a community with a shared future for mankind.
"The UN SDGs have painted a blueprint of an ideal world, and it is up to engineers to turn that blueprint into a reality," he said at the society's launch ceremony, adding it is crucial for the global engineering community to provide innovative, inclusive engineering education, especially for women and the young.
Li Xiaohong, the president of the Chinese Academy of Engineering, said almost all the issues listed in the sustainable development goals are directly related to engineering technologies, and a joint effort from the international engineering community is required if they are to be overcome.
"The COVID-19 pandemic has proved that the fates and interests of nations are closely tied together," he said. "More than ever before, the international community needs to abandon unilateralism and decoupling in science and technology, and embrace openness, inclusiveness, solidarity and collaboration."
Tian Xuejun, vice-minister of education, said China has remained open and collaborative in building a global community for engineering education, including establishing an international alliance for engineering education with 60 universities and companies across the globe.
"We will attach more importance to nurturing quality engineering talent, and incorporate the UN SDGs into talent training, so that more people can take part in engineering projects and fulfill the SDGs," he said, adding China will continue to expand cooperation with UNESCO and other countries in science and technology.
Shamila Nair-Bedouelle, the assistant director-general of UNESCO, said China's superb engineering capabilities have changed the country in profound ways.
She said she hopes China and other countries can work together in the future to promote an inclusive and interdisciplinary engineering curriculum, which will foster a new generation of capable young engineers to create new engineering solutions that will make the world a better place.
Gong Ke, president of the World Federation of Engineering Organizations, said China is a major nation in terms of engineering education, research, construction, workforce and cooperation.
"The founding of the Chinese Society of Engineers will be an important milestone in China's engineering development," he said. "We hope the Chinese engineering community can engage in closer cooperation with peers around the world, so as to accelerate the country's modernization and make a greater contribution to global sustainable development."